Exhibition

A Pioneer of CharA Pioneer of Character Design


HIJIKATA Shigemi's World

2023 Sat February 11 〜 2023 Sun April 9

Closed: Mon MAR 6, Mon APR 3
---
Hijikata Shigemi(1915-1986)empathized with Iizawa Tadasu's principles of "I want to plant lovely, fitting things in children's hearts", as a designer, created a host of fascinating characters. This famous pair's collaborations, which have enthralled countless children, included the picture book Yanbo, Ninbo, Tonbo and the puppet theater programs Boo Foo Woo and Datto-kun for NHK's Okaasan to Issho (With Mother), a television series for young children. Their series of puppet picture books, for which Hijikata designed the puppets, has been translated into fifteen languages and published in 78 countries, in 80 versions.
Hijikata also created many commercial designs. He was the father of Sato-chan, the character, still beloved today, that he designed for Sato Pharmaceutical Co., Ltd. He also engaged in trailblazing projects in the world of corporate advertising, including working with Iizawa Tadasu in creating puppet animation commercials for Asahi Breweries, Ltd., and Mitsuwa Soap Corporation.
This exhibition also introduces the many movie posters that Hijikawa created for Toho Studios' classic and documentary films before and during World War II. They are joined by the many posters and flyers that he created for ballet and opera performances as a freelance designer after the war. This exhibition, the first Hijikata retrospective in the Kanto region, traces his multifaceted career through valuable original drawings, posters, character goods, movies, and other works.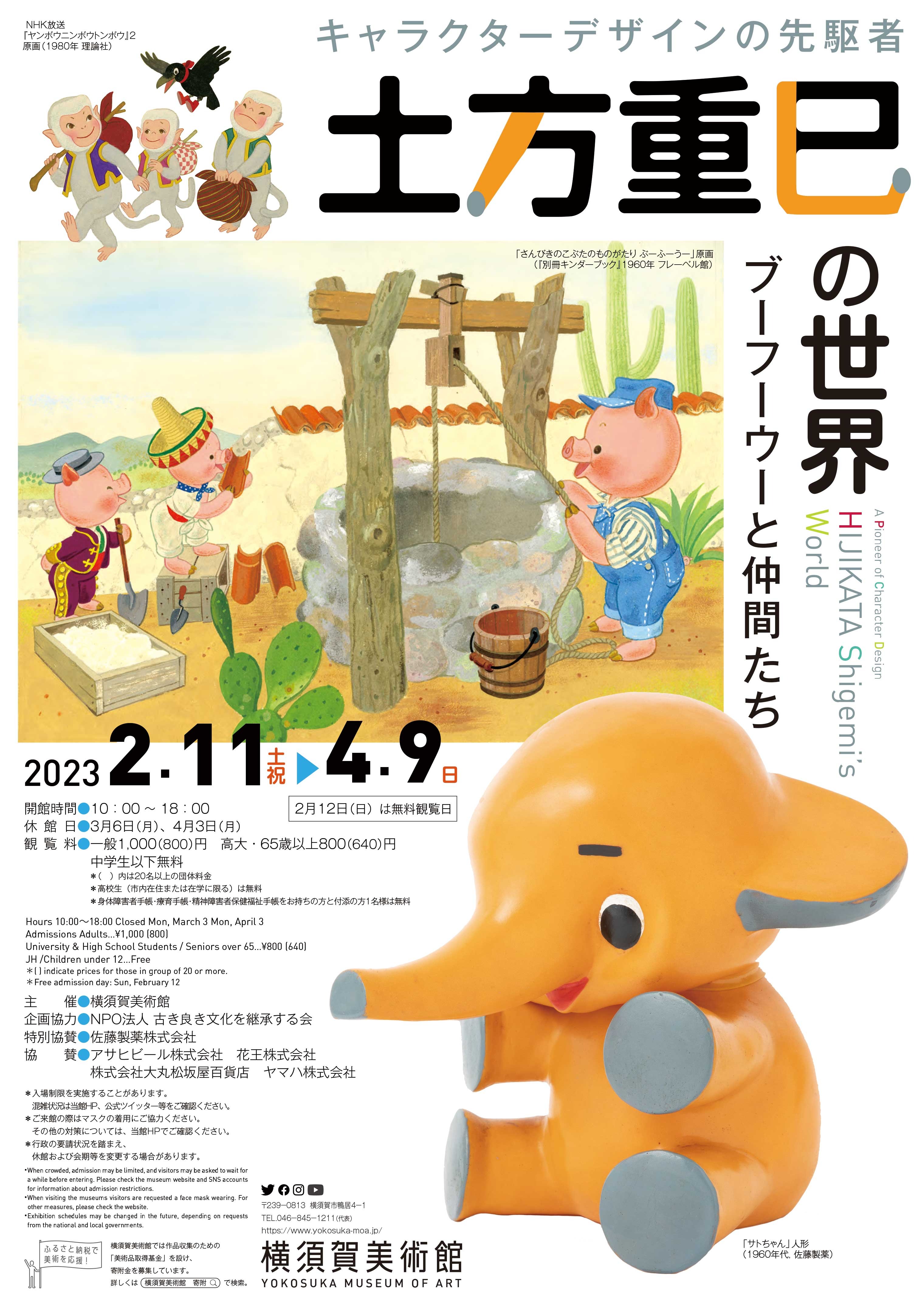 Date
2023 Sat February 11 – 2023 Sun April 9
*Sun February 12:Free admission day

Hours
10:00 – 18:00
Closed
Mon MAR 6, Mon APR 3
Admission (tax included)
Day ticket (Group of 20 persons or more) Adults: ¥1,000(¥800)
University Students/High School students/Senior over 65: ¥800 (¥640)
Junior high school students and younger: Free
*Including the admission fee for Collection Gallery
*Entry is free for high school students residing in Yokosuka or students attending high school in Yokosuka.
*Free admission for persons with a disability pass and one accompanying caretaker.

Organizer
YOKOSUKA MUSEUM OF ART
Planning cooperation
Npo Corporation Association to Inherit the Good Old Culture
Special Cooperation
Sato Pharmaceutical Co., Ltd.
Cooperation
Asahi Breweries, Ltd.
Kao Corporation, Daimaru Matsuzakaya Department Stores Co.Ltd.
Yamaha Corporation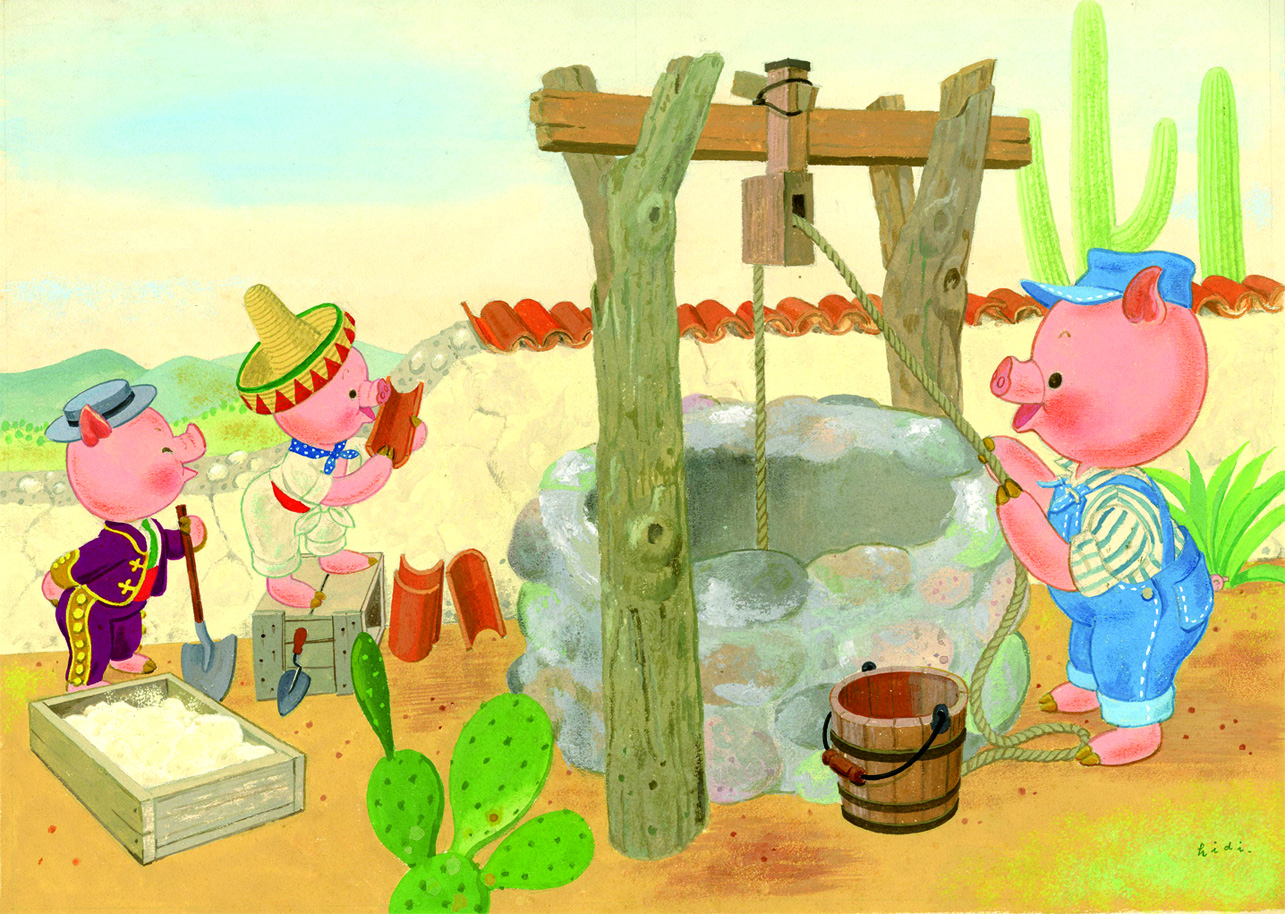 Illustration for "The Tale of the Three Little Pigs Boo-hoo-hoo" 1960
Npo Corporation Association to Inherit the Good Old Culture